ROCKET FUEL

Real Super Energy High Length
Gold's Horse's Rocket Fuel is pure super energy with a unique and revolutionary formula, designed specifically for endurance professionals (triathlon, marathon, swimming, etc..) and high-intensity sports (crossfit, bodybuilding, boxing, martial arts, etc..), providing the athlete with immediate-modulated energy that is digested to perfection, being composed of superior organic raw ingredients, with no corn malt dextrins /GMOs - that cause extremely harmful glycemic spikes, nausea and medium to long term stomach/gut damage, compromising both present and future performances.

Rocket Fuel delivers superior energy, for longer, providing that competitive edge during training and competition - that can make all the difference!


As we know, energy supplements (in gel or powder form) are critical for endurance performance and high-intensity sports, both in training and competition.

The 99% of energy supplements on the market are made of malt dextrin (both gel and powder), and specifically, they use malt dextrins from GMO corn (unless otherwise stated on the package: if they don't mention it, it's GMO corn!) that are chemically extracted, using high temperatures, acids and enzymes. The GMO corn starches are cooked and then acids or enzymes are added to break them down further, before a white powder is obtained. From there in the case of gels, further steps are implemented and additional substances such as chemical flavors, acidifiers (citric acid), thickeners (gums), preservatives, etc. are added.


Already this is NOT a good start, but let's look in detail at the negative effects, now well known, that we have read about and encountered in classic malt dextrin powders and gels produced from corn:


They cause digestive problems and nausea: they negatively impact gut bacteria (intestinal flora). Several studies have linked the consumption of malt dextrins (from corn) to the suppression of "good bacteria" in the digestive tract. This potentially puts athletes who frequently consume classic malt dextrins extracted from corn at risk of bacterial infections (such as salmonella or E.coli, etc...).

Another recent study suggested that malt dextrins synthesized from corn, may also impair the ability of cells to respond to bacteria and lead to a reduction in the gut's defense mechanisms against them, resulting in intestinal disorders and a wide range of inflammatory conditions that will reduce athletic performance and overall health condition in the medium to long term.
In endurance racing and high-intensity sports, corn malt dextrins can cause a state of mental confusion and loss of focus, a major competitive disadvantage (often leading to athletes having to withdraw).

If an athlete regularly uses malt dextrins synthesized from corn in training and competition, his/her diet is likely to be high in sugar, low in fiber, and full of highly processed/industrial foods. This type of diet may increase the risk of high cholesterol, and type 2 diabetes.

GMO corn, which is a genetically modified organism, is the most common source of malt dextrins. However, GMOs can be harmful to people's health because of the increased use of herbicides and pesticides on GMO crops.

Several experts believe that there is a link between GMOs and various health problems, including cancer, kidney problems, Alzheimer's disease, antibiotic resistance, allergies and reproductive problems. We have decided not to take these risks and NEVER use malt dextrins from corn, and we suggest You to NEVER USE them too, especially if GMO (or if unspecified!).


ROCKET FUEL

The Winning Choice:

Rocket Fuel by Gold's Horse is pure super energy with a unique and revolutionary formula, designed specifically for endurance professionals (triathlon, marathon, swimming, etc..) and high-intensity sports (crossfit, bodybuilding, boxing, martial arts, etc..), providing the athlete with immediate-modulated energy and is digested to perfection, being composed of superior Bio-organic raw ingredients, WITHOUT corn malt dextrins / GMOs that cause extremely harmful glycemic spikes, nausea and medium to long term stomach/gut damage, compromising both present/future performances and athletic career.
Rocket Fuel delivers superior energy, for longer, from its three different Bio-organic energy sources, providing that competitive edge during training and competition - that can make all the difference!

The Superior Performance Secret:

Rocket Fuel is produced in a completely natural way (enzymes and photosynthesis), and the 3 energy sources in it come exclusively from Bio-organic cultivation: Organic Tapioca Malt Dextrins, Organic Coconut Flower Nectar, Glucose from organic Algae photosynthesis

Lower glycemic index, but greater effectiveness and superior efficiency, thanks to the progression in energy boost, provided by the unique combination of the 3 natural Bio-organic sources (Tapioca, Coconut Flower, and Algae) more modular and constant, without those peaks and subsequent downs typical of normal malt dextrins. You'll feel a clear improvement in your performance

Rocket Fuel, is not only super digestible, but it is beneficial for the gut flora, as the coconut flower nectar helps keep bad bacteria under control, and stimulates the action of the good ones. As a result, athletes will no longer have those unpleasant feelings of nausea, digestive problems, and decreased focus typical of corn malt dextrins. Another big advantage!
Promotes oxygen utilization and energy production
Primes body and mind for demanding workouts and races. Lower perceived effort, optimized energy use
Improves alertness, increases motivation, and sharpens mental acuity
Rocket Fuel provides not only "empty" calories, but also iron, zinc, calcium, potassium, some short-chain fatty acids such as polyphenols, and antioxidants.

Athletes using Rocket Fuel notice an increase in performance ranging from 5% to 20% depending on the level and intensity, and total elimination of the undesirable effects typical of regular corn malt dextrins contained in mass-market products (powders and gels).

NO GMO, only Bio-Organic raw ingredients, extracted naturally through enzymes and photosynthesis, absolutely no chemical processes such as hydrolysis, use of acids or other industrial chemicals !

Without additives and flavorings. Light and delicate taste. Easy to dilute and mix.

The most advanced performance fuel for immediate / modulated / long term energy, so you will still have fuel in the tank when everyone else is empty!

Helps prevent muscle cramps
Rocket Fuel by Gold's Horse - offers superior bioavailability since the raw materials are extracted naturally (not with chemical products and processes such as hydrolysis etc.. typical of industrial supplements for the mass market) so they will be more easily absorbed by the body and in higher amounts. The athlete will therefore have greater energy availability, for longer, at the same dosage
In addition, the total absence of flavors, anti-caking agents, fillers, sugars and undesirable chemicals means that the athletes' inner organs are NOT unnecessarily loaded with waste, thus ensuring better physical condition and greater recovery not only muscular but of the entire body overall
Rocket Fuel's unique multi-component blend offers a great advantage in terms of modulating energy uptake thus amplifying its effectiveness. Whether taken in pre-workout/pre-performance preparation or during the performance, it offers a constant energy boost for superior performances
The revolutionary formula delivers all five electrolytes for more effective uptake and cramp prevention. During extreme heat and intense efforts, Rocket Fuel's complete electrolyte profile can be the difference between peak performance and collapsing with cramps as the winning gap opens in front of you.
Rocket Fuel has a light, delicate flavor that's easy to consume as often as needed. It's not overpoweringly sweet, so you won't get the dreaded sweetness fatigue that can lead to reduced consumption and insufficient fueling.
Rocket Fuel can be used in the protocol to replenish muscle glycogen several days before a performance / competition, through which there is a super-compensation of energy reserves.

We can use it before, during, or just at the end of the performance.

1. Before and during exercise/performance: Rocket Fuel consumed before and during exercise will serve as a fast and stable source of energy, providing fuel for the muscle until the end of the workout and preventing cramps.

2. After exercise/performance: If we consume it after exercise, it will help us replenish muscle glycogen lost after exercise, as this is greatly reduced during a performance, as well as improve the proteins / nutrients uptake by muscle tissue.
The Science behind the Masterpiece:
Nutritional Values - Supplements Facts
Exclusively natural Bio-Organic raw ingredients
Extracted without chemical processes
Without unwanted and harmful ingredients such as:

sugars, anti-caking agents, gums, colours, flavors, sweeteners, additives, toxic chemicals (GMOs, pesticides etc..).
Be Exceptional!
There is no better feeling than feeling Your Best
Shop from our exclusive range of premium high-end , Bio Organic, all-natural supplements that will help you to Prepare, Perform and Recover at best and to live at the Top.
Gold's Horse Excellence

ROCKET FUEL - Super Energy - 740g 37 Euro

Pure & natural Bio Organic 740g

*Actually this product is available only to our Excellence Club members
and to our Exclusive Partners.

To enter in the Excellence Club or to become one of our Exclusive Partners,
contact us: special@goldshorse.com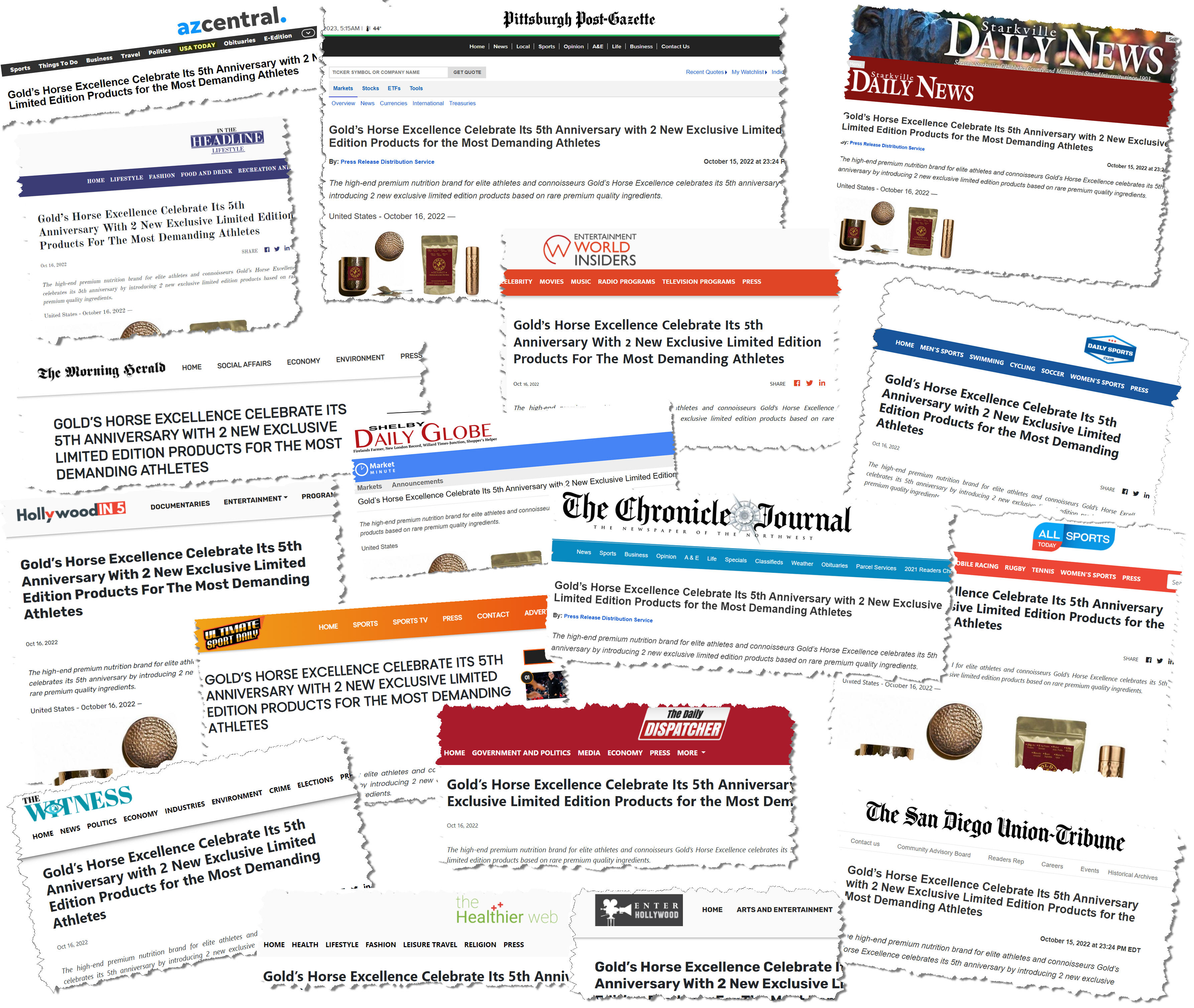 What World Champions, Olympic Champions and elite Athletes
says about plant-based nutrition:

I do eat plant based and I think that's one of the reasons why I recover well.


Novak Djokovic - Multiple time Wimbledon champion

People say, 'Where do you get your strength from? Answer: [Apes are] 20 times stronger than humans and they don't rely on a meat-based diet. They eat plants all day long. It's a myth that you need meat for strength


David Haye - British boxer with World Titles in two weight categories

These days I train half as much, do half as much but get better results. Why? Only one answer, going vegan, GMO free, and organic. My body is running perfectly.
The world's strongest animals are plant-eaters: gorillas, buffaloes, elephants and me!


Barny du Plessis - Ex Mr Universe

My body has become lighter, so to say "cleaner".. Flexibility and elasticity are incredibly important , and I increased both of these.


Alexey Voevoda – Olympic Gold medallist and World Champion
Gold's Horse Excellence is available only at the most iconic & exclusive
fitness clubs, health clubs, luxury hotels around the world:


Interested to become Gold's Horse Excellence partner / distributor?


Contact us to see if you qualify: special@goldshorse.com
Reach Us:
Gold's Horse Excellence
16192 Costal Highway
Lewes, DE 19958 - USA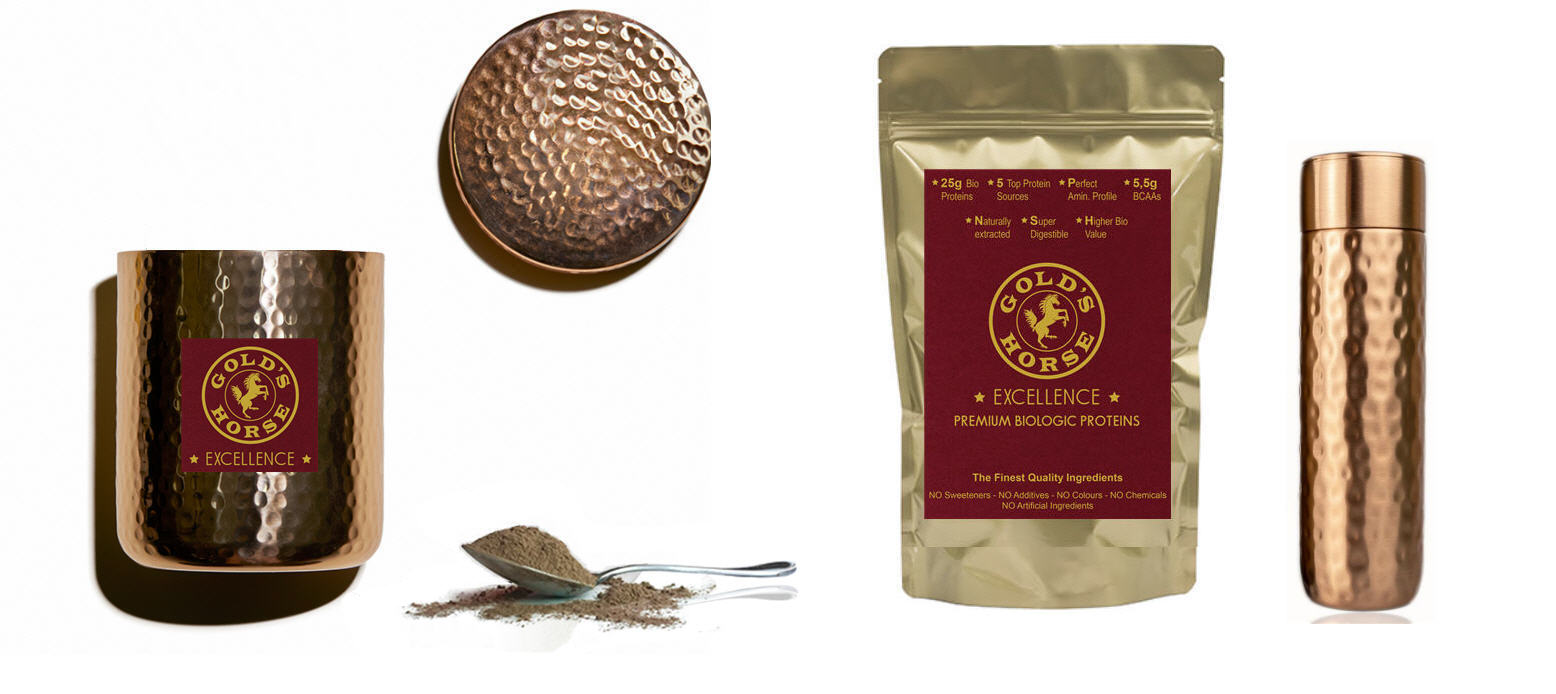 *Do not exceed the recommended daily dosage. Keep out of the reach of children under three years of age. Dietary supplements are not intended as a substitute for a varied and balanced diet. Do not use in pregnancy and children or for prolonged use without consulting your doctor. Gold's Horse recalls the importance of following healthy lifestyle and a varied and balanced diet. Store in a cool, dry place. Carefully close the lid after use.
Privacy Policy | Terms and conditions | Shipping
®GoldsHorse.com